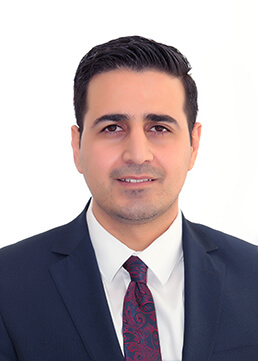 Mr. Omar A. Shalan Manager – Marine Insurance Department
Omar Shalan was appointed as a Marine Department Manager at JICO in May 2017. His responsibilities include upgrading, enhancing, and further developing the company's marine insurance portfolio, supervising all sales activities related to the Marine business, mentoring & managing the Marine department's personnel.
Before joining JICO, Shalan spent around 10 years as an underwriting and contract manager for many marine and property industries, most recently serving as the Assistant Underwriter for Property and Marine Liability at International General Insurance (IGI).
Shalan obtained his Certificate in Insurance from the Chartered Insurance Institute (CII, UK) in 2014, and his Insurance Underwriting Process Certificate in 2013. His expertise includes attaining the certificate of Hamline University Education to Employment Fellows Program (HUEEFP) in Minnesota, United States, in 2012.
Shalan earned his bachelor degree in Business Administration from the University of Jordan in 2009.