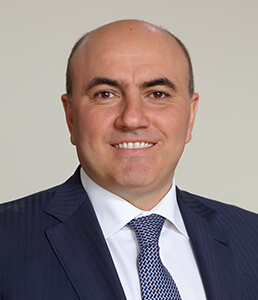 Mr. Mohammad Alayyan
Vice Chairman – Board of Directors
Mr. Mohammad Alayyan holds the position of Chief Executive Officer at Qudra Automotive Trading Company, and he is the Vice Chairman of National Arab Motors Company.
He enjoys expertise of over 20 years in leading organizational transformation and driving large-scale corporate growth. Most recently, he was appointed Vice President of Asria Dairy, and was the founder of Jordan's United Company for Sports (SHOOT) prior to that.
He is recognized for the vital role he played in driving the growth and development of Jordan's media industry, where he held several leading roles, including serving as the General Manager at Al Waseet Publication, CEO and Chairman of Jordan's United TV Broadcasting Corporation (ATV), and Publisher and Chairman of Jordan's United Press Company (Al Ghad Daily Newspaper).
Mr. Alayyan holds a Bachelor's Degree in Economics and Politics with a minor in Accounting from the University of Kent at Canterbury, United Kingdom in 1995.