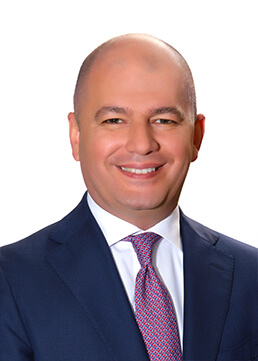 Mr. Imad M. Morrar General Manager
Imad Morrar was appointed as the General Manager at Jerusalem Insurance Company – JICO, in January 2017. Under his leadership, JICO's team of employees provides assistance for corporations and individuals across Jordan in building resilience, taking higher risks, and caring for their health and assets.
Morrar has more than 20 years of experience in overseeing specialized teams to insure big and complex risks, produce innovative products and solutions, and generate profitable growth. He held several senior managerial roles at Fenchurch Faris, First Insurance Company, Arab Orient Insurance Company, Arab Jordanian Insurance Company, and Al Buhaira National Insurance Company.
Most recently, he served as the Director of Reinsurance at Fenchurch Faris, where he was responsible for developing and driving treaty reinsurance businesses and consulting corporate clients. Prior to that, Morrar was the Chief Operating Officer (COO) at First Insurance Company.
He obtained his Diploma in Insurance from the Chartered Insurance Institute, United Kingdom, in 2007, and an Applied Insurance Studies Diploma from the Mediterranean Insurance Training Center, Malta, in 2000.
Mr. Morrar earned his bachelor degree in Business Administration from Yarmouk University in 1998.