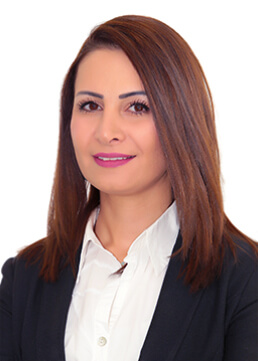 Mrs. Yasmin M. Sallam Manager – Reinsurance Department
Yasmin Sallam was appointed as the Reinsurance Manager in January 2017. She is responsible for supervising reinsurance operations across all segments, leading facultative broking, treaty development and coordination with third parties, and evaluating risk exposure.
Before joining JICO, Yasmin served around 5 years as the Reinsurance Technical Assistant for Apex Insurance & Reinsurance Brokers Company handling all facultative reinsurance placements for Fire and Property Insurance, Engineering Insurance, Casualty, and Specialty Lines Insurance.
She has further served as Assistant Business Development Manager at The Mediterranean and Gulf Insurance Company (MedGulf), and Secretary of the Board of Directors at Jordan Emirates Insurance Company.
Sallam obtained her bachelor degree in Computer Science and Information Technology from Philadelphia University, Jordan, in 2004.